75% of Americans are Now Familiar with Podcasting
55% of Americans Have Listened to a Podcast
Podcast Listeners Have Grown 37.5% in 3 Years
To start this post off I figured that it would make sense to look at the metrics behind why podcasting needs to be made easy. Communication and how we process content is changing, really quickly and with advent of new technologies, new platforms and so on there has never been a better time to get involved with podcasts for your business.
Podcasts, statistically you probably already know, are recorded audio commentary media. These days podcasts tend to be highly focused on a niche, more or less the industry that the company is embedded in. This provides plenty of choice of content to try and choose. 
The fantastic thing about podcasting is that anyone can start one. Now be aware that podcasting takes a lot of effort. If you think blogs were difficult, podcasting is another level of difficult. 
As a note, podcasting works well if you already have brand or known name. Which generally means you have a social following and this makes it far easier to distribute your content. The point of this article is to try and make the podcast creation process far easier so that you can test the waters. One of the hardest parts of podcasting is firstly getting guests and then call recording.
Are guests vital?
You can probably get away with running a solo operation but only for a short amount of time before your listeners get bored of the same voice. Before trying to arrange guests it would be wise to dedicate some podcasts to you just getting to grips with the planning process, creation, development and distribution of it.
After a while you will need to have some other industry experts in to interview them. The benefit of guests is that if they have a social following, they are likely to share their appearance therefore resulting in a much wider reach and exposure. So there are a few benefits to having guests on your podcast.
Now when you are starting out, enticing guests to come to your home-shed-office-studio is going to be tricky which will evidently require you to interview over the phone. Grabbing phone audio can be a tricky process and even if you use Skype or video calling, it's still tricky to grab just the audio.
For editing and quality purposes thinking about this ahead of time is crucial to avoid wasting every bodies time. Especially as you are likely to be a one-person band right now without all the shiny tools that a radio station has.
Some basic options for call recording
There are a number of ways to record calls that range from low-tech to high-expensive-tech and ultimately this boils down to your goals. As I said for people just starting out and wanting to test the waters, a simple iPhone call recording app will suffice.
One option could be to purchase a classic voice recorder then have the guest phone up, you then put them on speaker and hit record on the voice recorder. This is a low-budget option but ultimately the audio quality tends to be poor and requires perfect alignment of speakers and receivers to capture the details.
There are hacks out there for recording audio that comes from Skype or Zoom calls but these are generally expensive and clunky that require downloads and installs.
Another option would be to broadcast a Google Hangouts over a private Youtube channel which could work out well, if everyone maintains a stable connect. Ultimately connection and internet speed can be a real cause for concern if you want to get the call done right and collect the right information too.
The easiest way to record a call with your podcast guest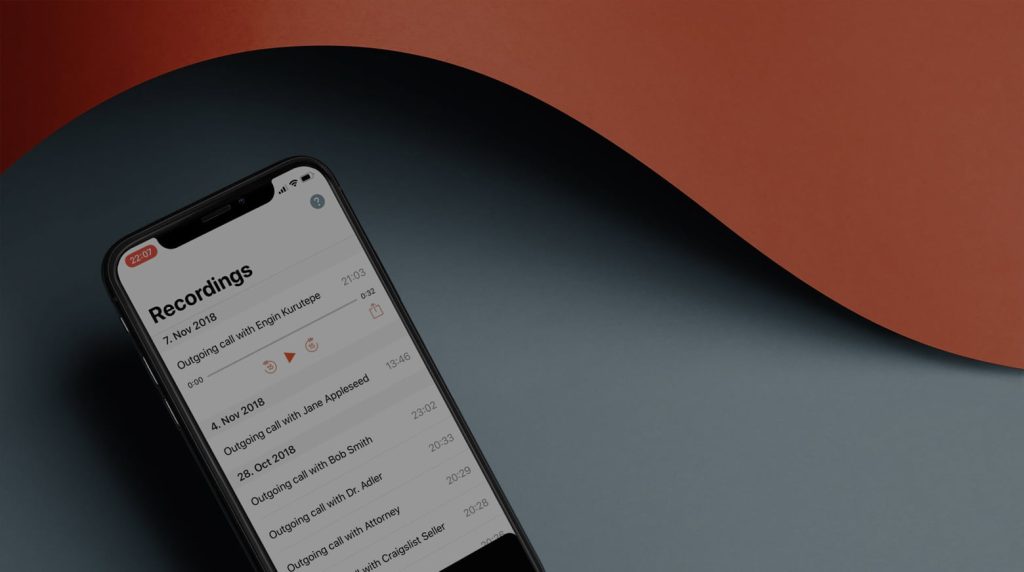 The easiest way to record your guest would be to opt for an iPhone call recording app which simplifies the process in an order of magnitude.
With a phone call recorder you inevitably have the benefit of going through the phone lines versus going through, potentially, unstable internet connections. This ensures high quality recordings and minimizes the risk of problems.
CallTap makes this entire process slick and simple. All that has to happen is you dial the number, add CallTap, merge the calls and away you go with the call being recorder.
Now you also have the call recording store on the phone which ensures easy access and easy sharing to your desired destination. Google Drive, Dropbox you name it. Once the call recording is ready you can start to edit it together with your own voice and questions. If you feel super fancy then you can start adding filler sounds and content too.
For anyone starting a podcast I suggest investing minimal amounts to see if you like it, can generate quality content and maintain the effort in a consistent fashion.